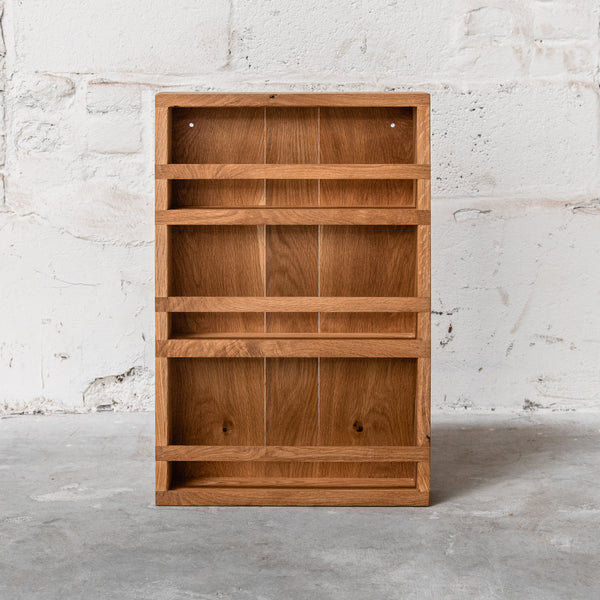 CUSTOMIZATION OPTIONS
Emmett, our laser engraving machine and in-house scribe, allows you to add your own story to many of our objects.

Choose one of our customization options – either a name or a quote (though you may add whatever text you desire to these areas as long as it within our character limits). The diagrams below show the placement and size of the text depending on your customization selection. Please include your text to be engraved in the cart notes. Be sure to double-check your wording, spelling and punctuation for errors before submitting your order. Customized objects are not returnable. We use the Garamond typeface for our engravings.
Apothecary Cabinet
$358.00 $286.40
This cabinet is final sale and not eligible for returns.
Historically used to house medications, elixirs, herbs and the like in the 1800s, apothecary cabinets were commonly used in the absence of drug stores. Some cabinets even had nailed or secret compartments to store poisons and hard-to-find spices.
Whether you fill it with drugstore remedies or home-created potions, our apothecary cabinet is built as a storage display for one's washroom needs.
The cabinet is simple and versatile and need not be limited to bathroom use. Works wonderfully in the kitchen for spices and potions, as well as a work shoppe or any where storage is needed!
Also available with a flame-blackened finish.
- Sustainable Maple, Oak, Walnut, or Blackened Maple from the USA
- Includes hardware for hanging
- Finished with tung oil
- Minimally packaged with tag and jute
DETAILS:
MEASUREMENTS:
Cabinet:
Inches: 16″ long by 4″ wide by 24″ tall
Metric: 40.6 cm long by 10.2 cm wide by 61 cm tall
Shelves:
Inches: all 3.25″ deep; top: 6″ tall, middle: 7″ tall, bottom: 8″ tall
Metric: all 8.3 cm deep; top: 15.2 cm tall, middle: 17.8 cm tall, bottom: 20.3 cm tall
Customer Photographs
you may also like