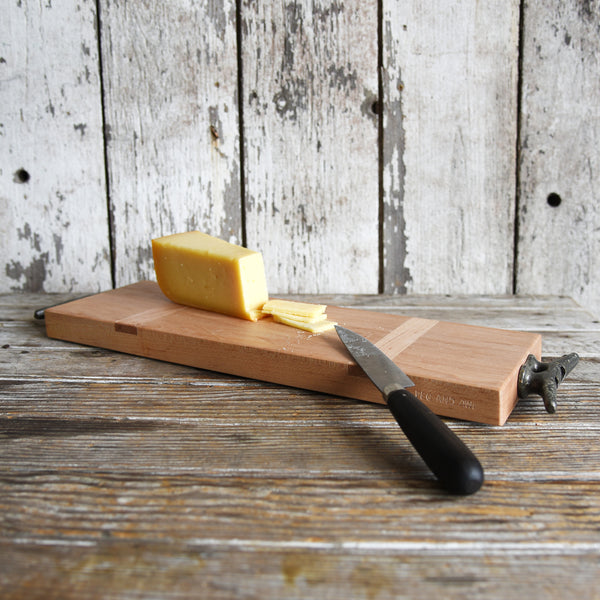 CUSTOMIZATION OPTIONS
Emmett, our laser engraving machine and in-house scribe, allows you to add your own story to many of our objects.

Choose one of our customization options – either a name or a quote (though you may add whatever text you desire to these areas as long as it within our character limits). The diagrams below show the placement and size of the text depending on your customization selection. Please include your text to be engraved in the cart notes. Be sure to double-check your wording, spelling and punctuation for errors before submitting your order. Customized objects are not returnable. We use the Garamond typeface for our engravings.
Cheese Board
$70.00 $56.00
This cheese board is final sale and not eligible for returns.
The Cheese Board is great for gatherings or a quiet dinner for two. It is constructed from reclaimed Walnut or Maple from storm trees sourced in the Philadelphia area. The board is fitted with aged steel boat cleat handles.
Treated with Bartram Wood Balm. Hand wash in hot water to clean. Do not let stand in water. Refinish regularly when the board starts to get dull and look worn.
- Sustainable Maple (light) or Walnut (dark) from the USA
- Finished with Bartram Wood Balm
- Aged steel boat cleats
- Minimally packaged with tag and jute
DETAILS:
MEASUREMENTS:
Small:
Inches: 14.5″ long by 5″ wide by 1″ thick; 16.5″ long handle to handle
Metric: 37 cm long by 13 cm wide by 2.5 cm thick; 42 cm handle to handle
Large:
Inches: 18″ long by 6″ wide by 1″ thick; 20″ handle to handle
Metric: 45 cm long by 15 cm wide by 2.5 cm thick; 51 cm handle to handle
Customer Photographs
you may also like