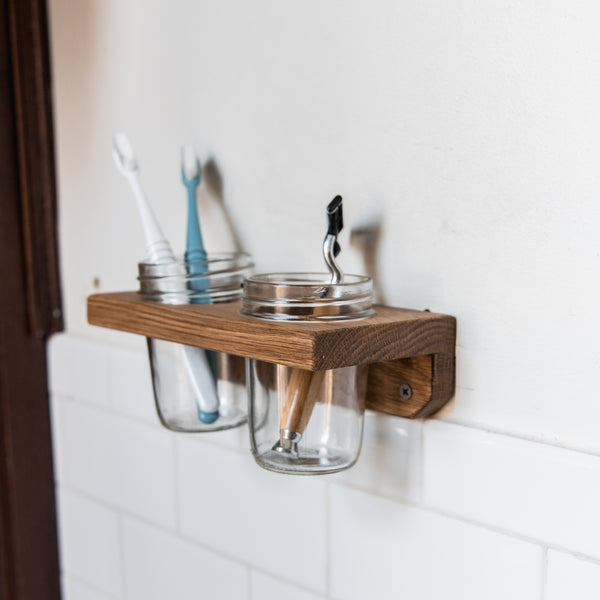 CUSTOMIZATION OPTIONS
Emmett, our laser engraving machine and in-house scribe, allows you to add your own story to many of our objects.

Choose one of our customization options – either a name or a quote (though you may add whatever text you desire to these areas as long as it within our character limits). The diagrams below show the placement and size of the text depending on your customization selection. Please include your text to be engraved in the cart notes. Be sure to double-check your wording, spelling and punctuation for errors before submitting your order. Customized objects are not returnable. We use the Garamond typeface for our engravings.
Landis Wall Caddy
$64.00 $51.20
This caddy is final sale and not eligible for returns.
For those with limited surface space and many odds and ends in kitchens, offices, bathroom, studios, &c. It is perfect for toothbrushes, toothpaste, and a glass for water, as well as for art supplies, small kitchen accessories and more. The jars are easily removed for cleaning.
- Sustainable Oak, Maple, Walnut, or Blackened Maple from the USA
- Includes hardware for hanging
- Finished with tung oil
- 2 sizes available
- 2 or 4 jelly jars (8 oz.) depending on size choice
- Minimally packaged with tag and jute
DETAILS:
MEASUREMENTS:
2 Jars:
Inches: 7.75″ long by 4″ wide by 2.25″ thick
Metric: 19.7 cm long by 10.2 cm wide by 5.7 cm thick
4 Jars:
Inches: 14.5″ long by 4″ wide by 2.25″ thick
Metric: 36.8 cm long by 10.2 cm wide by 5.7 cm thick
Customer Photographs
you may also like