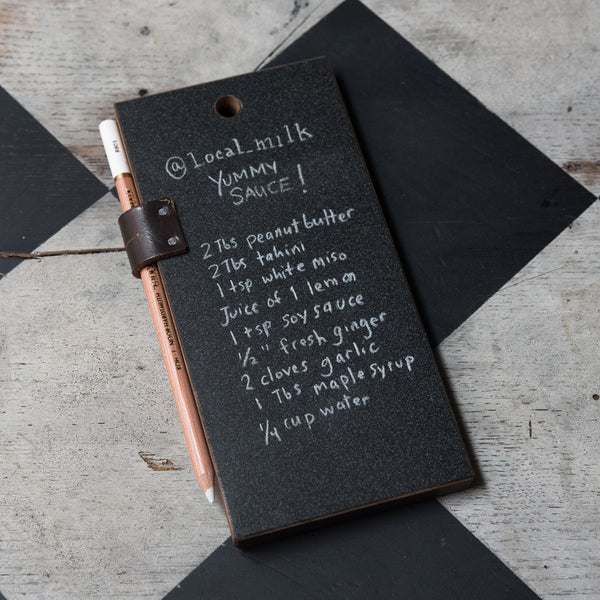 CUSTOMIZATION OPTIONS
Emmett, our laser engraving machine and in-house scribe, allows you to add your own story to many of our objects.

Choose one of our customization options – either a name or a quote (though you may add whatever text you desire to these areas as long as it within our character limits). The diagrams below show the placement and size of the text depending on your customization selection. Please include your text to be engraved in the cart notes. Be sure to double-check your wording, spelling and punctuation for errors before submitting your order. Customized objects are not returnable. We use the Garamond typeface for our engravings.
Chalk Tablet
$22.00 - $207.00
This perfect list-sized tablet will replace any number of scraps on desktops, refrigerators, bedside tables, &c. Reminiscent of an old schoolhouse slate, it is great for grocery lists, sketches, messages and plans. Wee children can spill out their imaginations on this black board. It is a blank slate waiting to be filled.
- Sustainable Walnut from the USA
- Durable chalkboard surface
- Vegetable-tanned leather pencil loop
- Finished with tung oil
- Hole in top for hanging
- Comes with 1 Koh-I-Noor chalk pencil*
- Minimally packaged with tag and string
- Can be purchased on its own or with a stand
- Can be customized with laser engraving
DETAILS:
*Koh-I-Noor chalk pencils bear a label which reads: "Warning: This product contains a chemical known to the State of California to cause cancer." The chemical in question is titanium dioxide. Valued for its bright white pigment, titanium dioxide is used as the whitening agent not only in chalk but also in sunscreen, toothpaste, skim milk and white tattoo ink.
Please note: The dimensions of our Chalk Tablet have changed to be slightly shorter and wider. If you previously owned one of our Chalk Tablet stands, the new tablet will a bit short for the old stand which may cause it be a bit wobbly.
MEASUREMENTS:
Tablet:
Inches: 7.75″ tall by 3.75″ wide by 0.5″ thick
Metric: 19.7 cm by 9.5 cm by 1.3 cm
Stand:
Inches: 7.75″ tall by 2.5″ wide by 1″ thick
Metric: 19.7 cm by 5.7 cm by 2.5 cm
Customer Photographs
you may also like