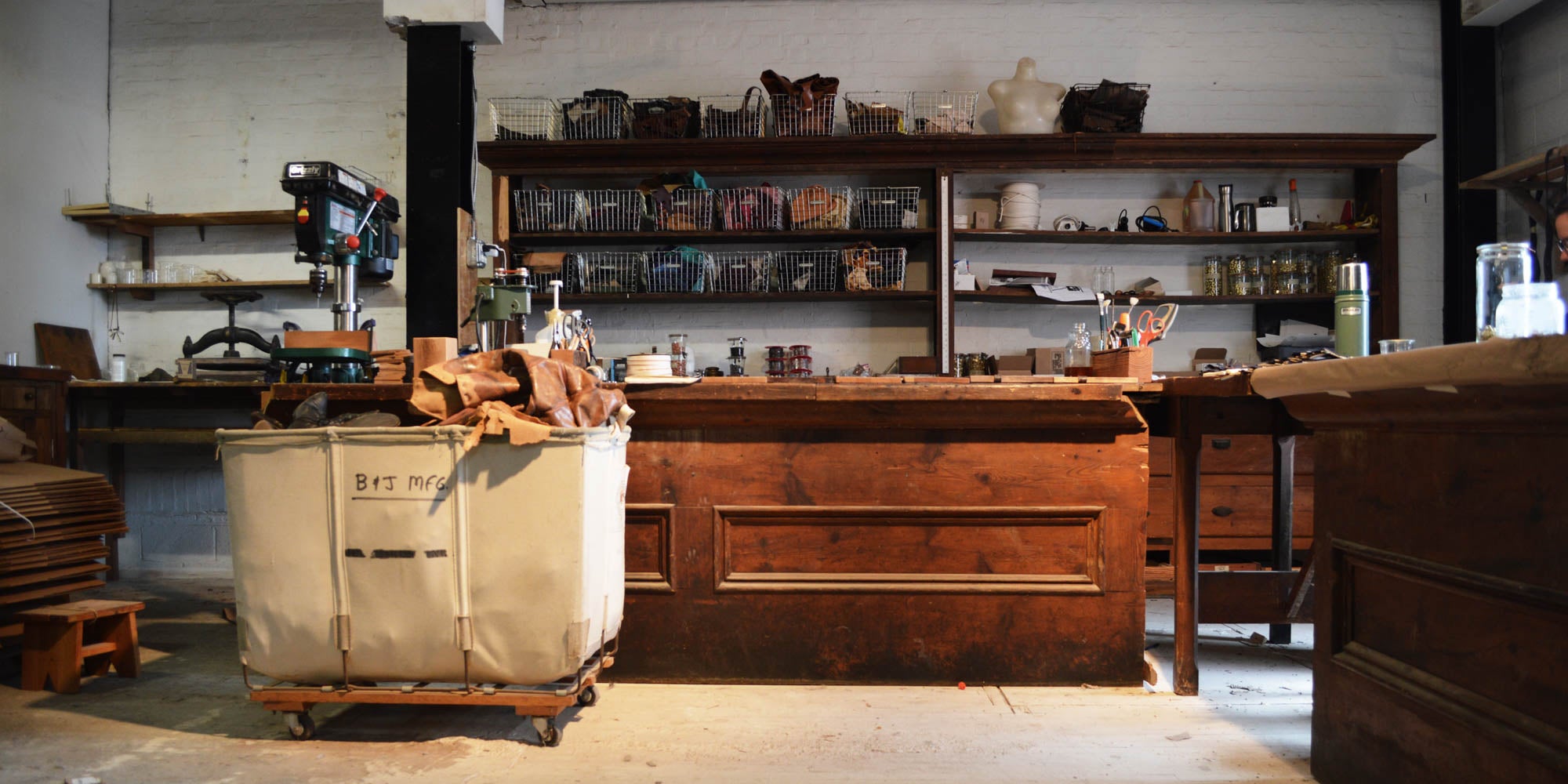 Our Materials
At Peg and Awl our work is often inspired by necessity and usefulness. In the beginning it nearly always incorporated old things, but as these abandoned materials became harder to find, we began to search for – and eventually found – a sustainable worthy successor. Now we make our objects from sumptuous and ethical new materials whose solid foundation quickly accumulates adventure's marks, and when we get our hands on old materials, we incorporate them into the assortment.

Our materials are important to us – we put a lot of time into finding the right ones, and the adventures themselves become most valuable. When the old materials we've relied on run out and all that is familiar comes undone or changes, it just means that a new adventure is about to begin.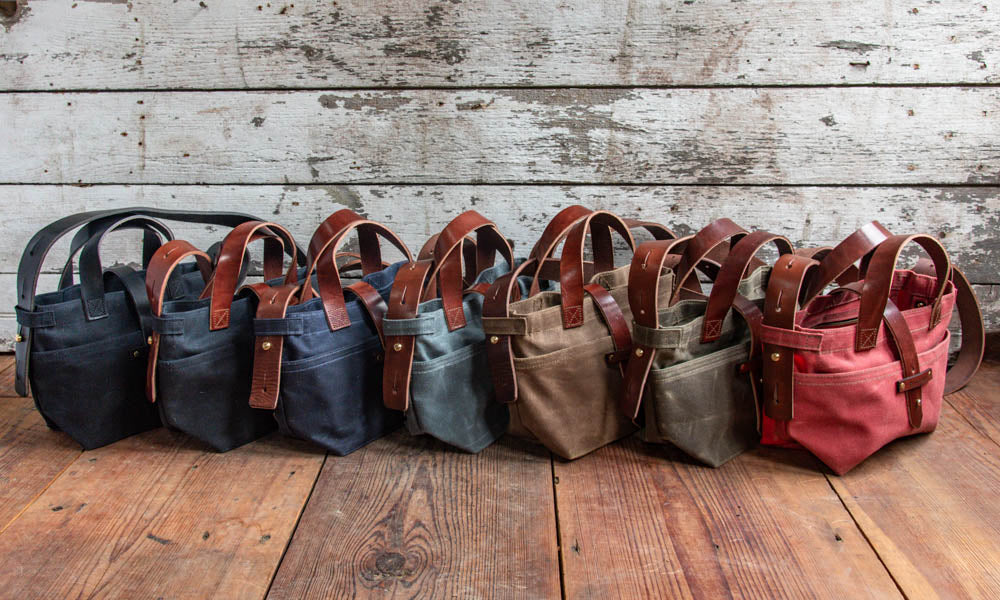 Waxed Canvas
We've been using waxed canvas since the early days of Peg and Awl — and still adore it. Ours comes from Martinex, a 6th generation company whose roots go back to Philadelphia in the 1800s. Waxed canvas is a tried-and-true material whose origins began in the sailing industry in the 15th century because of its waterproofing abilities and superb durability! We love that the canvas quickly breaks in and gathers marks from adventures and use. Our standard collection consists of earthy colors that are hand-dyed and waxed. Keep an eye out for our small batches of limited waxed canvas colors!
Mini Artist Rolls in Slate, Coal, Moss, and Truffle

Detail on our Waxed Canvas Tote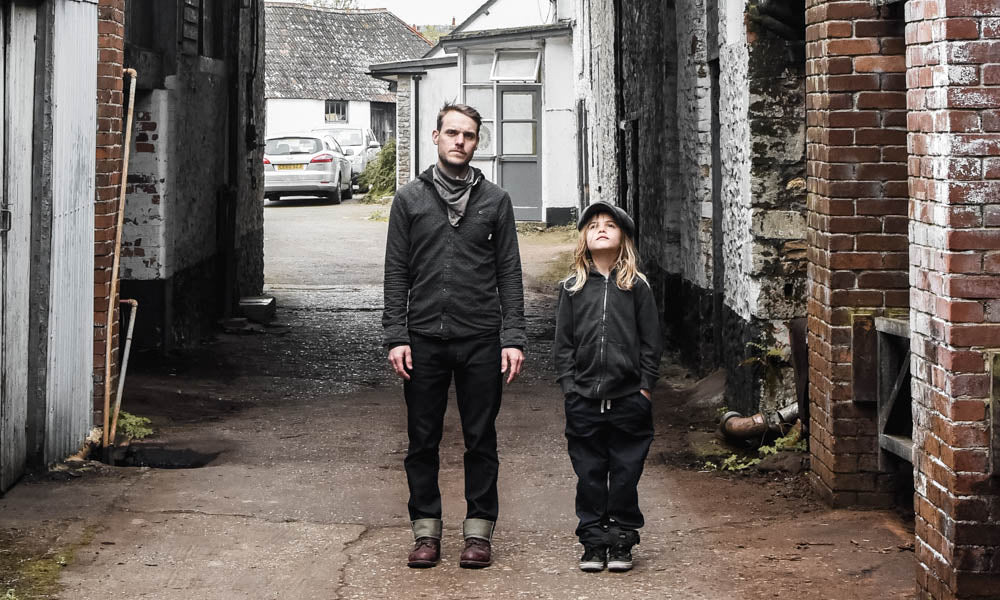 Our Leather
For years we finished our bags with reclaimed military leather slings until there were no more to be found. So began the search for the right new leather.

We began in the UK at a 500-year-old tannery. While shipping leather so far turned out to be impractical, we left enlightened, and returned to America, where we found Wickett & Craig in Pennsylvania. Their vegetable tanning process is a slow, natural, and eco-friendly process of tanning raw hides with natural, biodegradable extracts derived entirely from vegetable sources such as tree bark.

This durable leather breaks in with use and gathers a gorgeous patina, bearing the marks of the users' (and makers') adventures – the very thing we've always celebrated!
Spines of our Leather-Bound Tomes.

The laser-engraved brand on our Sendak.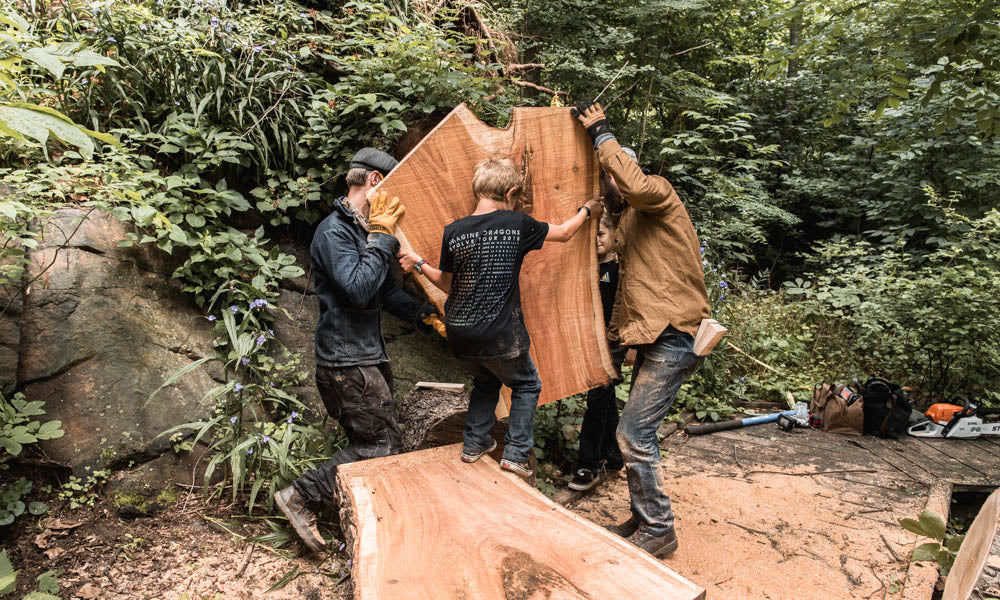 Our Wood
When we first started out, we collected wood from deconstruction sites in Philadelphia, saving 19th century beams and boards that were once centuries-old tight-ringed trees from being dumped into landfills. Whilst we are still slowly gathering wood from old homes and barns, storm and historic trees, we have found it impossible to rely only on reclaimed supply for our wood. We began a quest in search of sustainable hardwood.
This pursuit led us to the Alan McIlvain Company in Pennsylvania. Their bustling factory has supplied furniture makers and woodworkers with sustainable, locally grown hardwoods for the last two centuries. We now make the majority of our products out of their FSC-certified hardwood, which ensures that trees come from responsibly managed forests.
Deconstructing a 19th century Carriage House in Riverton, New Jersey.

Our Walnut Scout Plein Air Box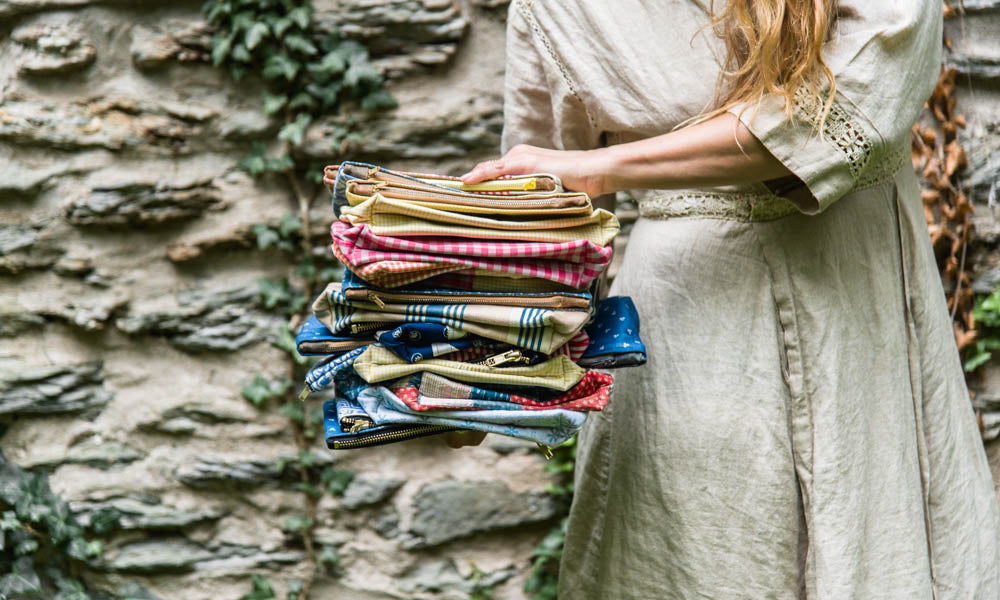 Antique Finds
Our antique fabric comes from 19th-century-ladies' house dresses, curtains, unfinished quilts, mattress ticking, scraps and feed sacks and grain sacks, found wherever they can be found.

In the beginning, our work nearly always incorporated old treasures, but as these abandoned materials became harder to find, we began to search for – and eventually found – the sustainable worthy successors mentioned above. But we are always on the hunt for treasures from the past and when we get our hands on well-worn old materials and objects, we incorporate them into our Of a Kind collections. They allow us to dig around at antique shops and flea markets to find treasures within treasures. Every discovery holds a bit of the past, and the story and marks accumulated. Keep an eye out for these collections – they go quickly!
Alternative Sketchbooks!

A Tintype Journal from a recent collection.