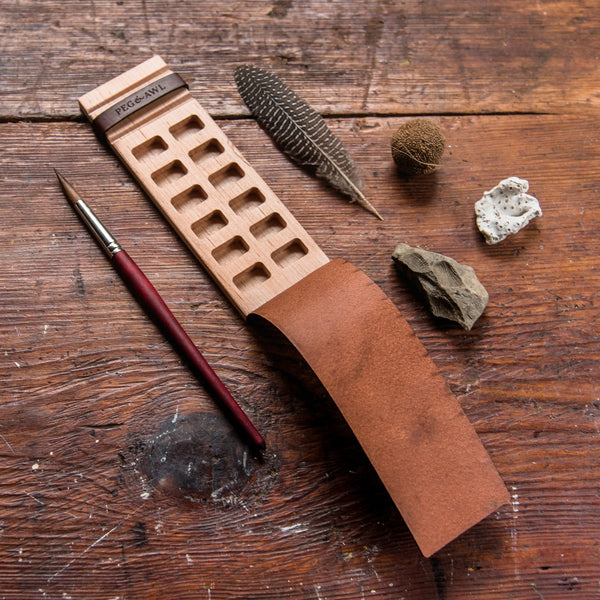 CUSTOMIZATION OPTIONS
Emmett, our laser engraving machine and in-house scribe, allows you to add your own story to many of our objects.

Choose one of our customization options – either a name or a quote (though you may add whatever text you desire to these areas as long as it within our character limits). The diagrams below show the placement and size of the text depending on your customization selection. Please include your text to be engraved in the cart notes. Be sure to double-check your wording, spelling and punctuation for errors before submitting your order. Customized objects are not returnable. We use the Garamond typeface for our engravings.
Iris Painter's Palette
$54.00 - $74.00
Our Iris Painter's Palette was inspired by the ivory palettes used by the ancient Egyptians. Constructed from sustainable maple and vegetable-tanned leather, the palette is a simple way to transport your favorite paints, whether you mix your own pigments or squeeze them from a tube.
The Iris fits in both the Classic and Mini Sendak Artist Rolls.
In the wise words of Annie Dillard, "How we spend our days is how we spend our lives." At Peg and Awl, we are working to facilitate the making of art everyday and anywhere with objects that make packing and transport easy, whilst looking quite handsome.
The wood is certified by the Forest Stewardship Council. FSC-certified wood was harvested from forests that are responsibly managed by environmentally conscious companies.
- Sustainable Maple from the USA
- Vegetable-tanned leather cover
- 12 wells
- Designed to be used with watercolor and gouache paints
- Finished with tung oil
- Minimally packaged with and jute
- Paint not included
- Made for wet paints (doesn't fit a standard half-pan)
Other Painter's Palette Styles
DETAILS:
MEASUREMENTS:
Palette
Inches: 7.5″ long by 2.5″ wide by 0.375″ thick
Metric: 19.1 cm long by 6.4 cm wide by 1.0 cm thick
Wells (×12)
Inches: 0.875″ long by 0.5″ wide by 0.25″ deep
Metric: 2.2 cm long by 1.3 cm wide by 0.6 cm deep
Customer Photographs
you may also like