About Us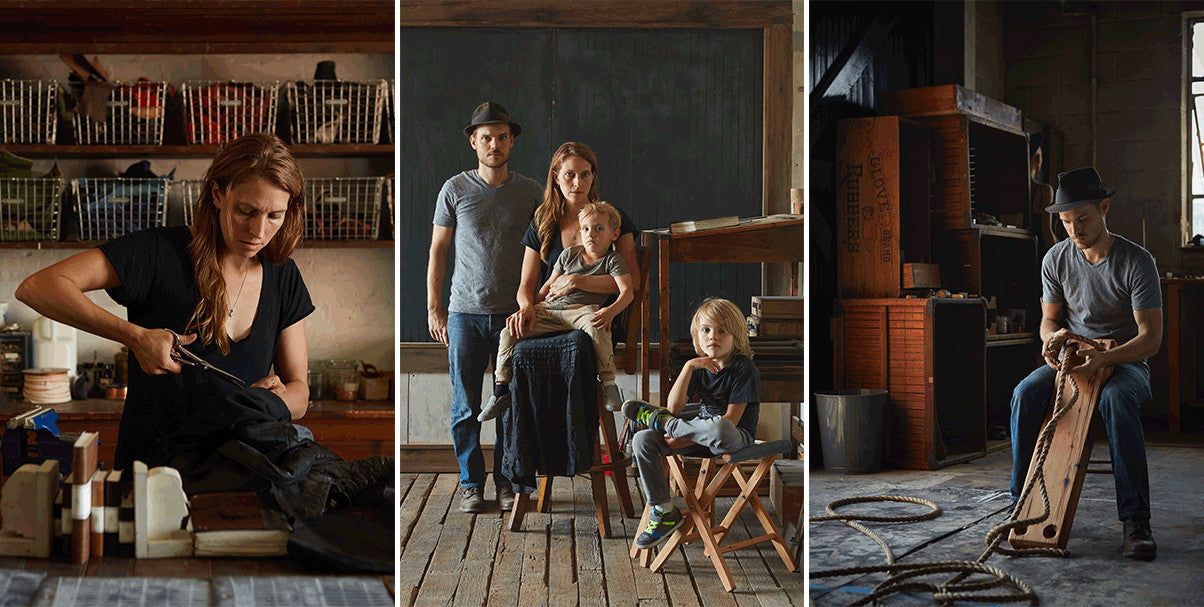 We are husband and wife with a boy called Søren and a boy called Silas. We work and create in Philadelphia, Penna and live on the 5 Acre Wood in West Chester. Our work is made from olde things, treasures found and recovered from misfortune and neglect, relics of the unusual, the confused and the macabre, cut and pulled and built into wearable curiosities, inscribable keepsakes, and useable, long-lasting treasures—and when the old eludes us, we use sustainable materials. We used to make these items for ourselves, and now we make them for everyone.
Peg and Awl began without a plan, a fortunate pairing of two minds, different but in sync. Both Walter and I have a fervor for history, though we each unearth our passions in different ways. I, Margaux, love the Romantic imaginings of what once was and the effects time and stories have on materials and objects. Though not military-minded, I am an invader, mostly of abandoned houses and the past. Walter was homeschooled by his history-aficionado mother and apprenticed to his carpenter father, before becoming a soldier in the American Army. There he learned how to do things effectively and simply, though his practical nature does not preclude his immense creativity. Walter's pragmatism, my own dreamy tendencies, and our shared curiosity combined to create Peg and Awl. With our two boys as constant companions, we find inspiration in them as much as we do in the past, taking notes and creating new objects to delight younger beings—Peg and Awl is not just for big people.
After nearly bursting our house with the weight of materials, makers, and ideas, in 2012 we finally decided to move the business elsewhere—to the Atlas Casket Factory. But in 2017, growing pains led us to seek new land, and during our voyages, we discovered our new home, the Foundlings Building, in Port Richmond, Philadelphia—spacious, an acre of sunshine (or whatever the weather brings!), bordered by an elevated train track, begging for a garden, an inspiring place to create more treasures, photographs, jobs, and joyful days.
We named the building Foundlings, and it is our hope to discover much about this tiny piece of land, both through the locals' stories and hopefully underground. (Look for me with a metal detector or a privy stick!) Our acre was carved out in the early 1800s, as evidenced by some old maps (PhilaGeoHistories). There were homes built upon it and torn down, and sometime between 1934 and 1942, our building was erected as the new home of the Phoenix Dye Works. In the 1980s it was closed up (maybe even before), and in it grew a darkness, loaded with leavings and a tale of years. When Walter tore through the ceiling to put in skylights, the dirt and dust came alive, dancing in beams of sunlight, detritus of an old building, yet eager to settle, like us, in a new home. Histories overlap, ghosts linger, and the ethereal reaches out to the corporeal.
Yet here at Peg and Awl, we are ready to begin building our own stories in venerable Philadelphia, for we are nothing if not makers, and our own tale of years has begun a new chapter.
Walter Kent
Co-Founder
Margaux Kent
Co-Founder
Søren Kent
On-Site Illustrator
Silas Kent
Technical Support
The Team
Arianne
Shop Manager
Oliver
Creative & Technical Administrator
Ashley
Videographer / Marketing Assistant
Niko
Shipping Assistant
Tori
Stitcher
Kevin
Woodshop Finisher