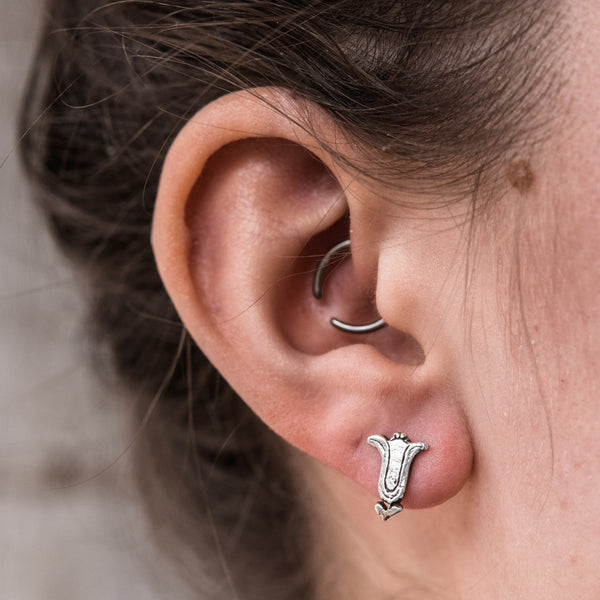 JEWELRY BOX DETAILS
Our little Walnut and leather jewelry boxes are handmade out of scrap vegetable-tanned leather and sustainable wood leftovers from treasures made in our shop. And they can be personalized with a message for your Valentine!

If you choose the Personalized Box option, please include your text to be engraved in the cart notes (up to 6 lines of 15 characters). Be sure to double-check your wording, spelling and punctuation for errors before submitting your order. Customized objects are not returnable. We use the Garamond typeface for our engravings.
Foundlings Earrings: Terran (Flower)
$44.00 - $356.00
Foundlings is a collection that has come to life through the layering of hands that make: those that have caused to exist that which has been made and remade.
One end-of-winter morning, we ventured out into the last grey of the season-leaving, amongst sagging time-worn tables that house trash and magic. Flea markets are often secret repositories of history, and we were about to dive backwards some 200 years, as sparkly creatures, patiently waiting out their decades of idleness, nearly rose up from their tattered box to greet us. Farm animals, imagined animals, flowers, and other wonders of the natural world —painted by unknown hands in an unknown time, fairly pulsed with scintillating energy upon nests of scritchy, scratchy handwritten ledgers, lessons, and language, impeccably penned by generations past.
Our discovery of these mischievous old fellows has led to yet another transformation. A select few have been carved and cast to retain their child-like style and to celebrate the expressional whimsy of each nurtured creature.
- Recycled sterling silver or
14K gold
- Available as a single earring or a pair
- Packaged in a muslin pouch
- Available in a giftable Walnut and leather jewelry box (select from drop down)
- Made in USA
DETAILS:
MEASUREMENTS:
Earring:
Inches: Approximately 5/16″ wide by 1/2″ tall; 7/16″ post
Metric: Approximately 0.8 cm wide by 1.3 cm tall; 1.1 cm post
Customer Photographs
you may also like