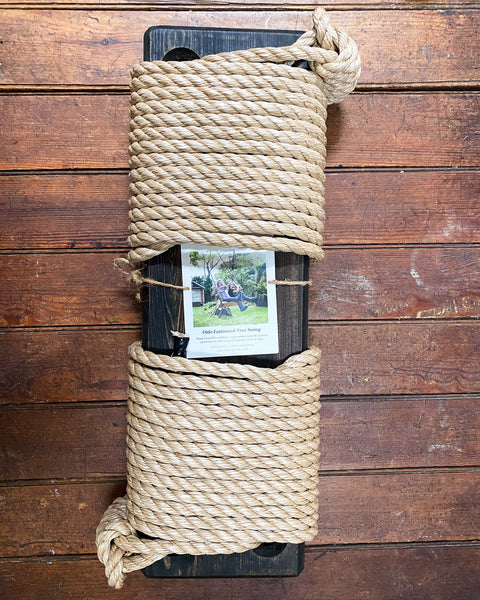 CUSTOMIZATION OPTIONS
Emmett, our laser engraving machine and in-house scribe, allows you to add your own story to many of our objects.

Choose one of our customization options – either a name or a quote (though you may add whatever text you desire to these areas as long as it within our character limits). The diagrams below show the placement and size of the text depending on your customization selection. Please include your text to be engraved in the cart notes. Be sure to double-check your wording, spelling and punctuation for errors before submitting your order. Customized objects are not returnable. We use the Garamond typeface for our engravings.
Olde-Fashioned Tree Swing – One of a Kind
$240.00
This swing is final sale and not eligible for returns.
Great for olde massive trees and free spirited folk, our tree swings are made of Douglas Fir from Philadelphia Row Homes and Reclaimed Redwood from Water Towers.
We do not take any responsibility for the ruckus and mayhem that may occur on this swing.
- Variety of reclaimed wood
- Pro-Manila (⅝″ synthetic fiber)
- 25′ rope on each side with 5600 lb. breaking strength (4800 lb. for Manila)
- Finished with tung oil
- Minimally packaged with instructional tag and jute
VIDEO: How to Hang Your Tree Swing
DETAILS:
The swing uses Pro-Manila rope that is looped through the seat and secured with a five loop fisherman's knot. Each side comes with 25 feet of rope to attach to a tree branch or beam. On average, plan to use 5′ to 7′ of rope to tie to the tree.
Our tree swings use Pro-Manila rope. Pro-Manila rope is a synthetic fiber and will not deteriorate over time due to moisture. We also stock natural Manilla rope, which is made of natural fibers. Manila rope will self abrade and deteriorate over time when left outside in the elements. It will also shrink 10% to 15% when wet, but will stretch back out to the original length once dry.
MEASUREMENTS:
Inches: 24″ wide with 19″ of sitting room, 7.5″ seat depth, 2″ thick
Metric: 61 cm wide with 48 cm of sitting room, 19 cm seat depth, 5.1 cm thick
Customer Photographs
you may also like