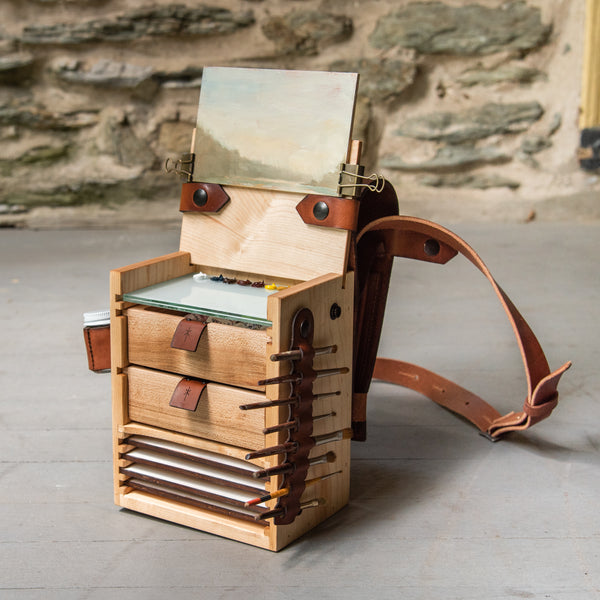 CUSTOMIZATION OPTIONS
Emmett, our laser engraving machine and in-house scribe, allows you to add your own story to many of our objects.

Choose one of our customization options – either a name or a quote (though you may add whatever text you desire to these areas as long as it within our character limits). The diagrams below show the placement and size of the text depending on your customization selection. Please include your text to be engraved in the cart notes. Be sure to double-check your wording, spelling and punctuation for errors before submitting your order. Customized objects are not returnable.
The Scout Plein Air Box
$600.00 - $646.00
PLEASE NOTE: We have changed the glass palette previously included with the Oil / Acrylic version (and shown in the photographs) to a more durable white Corian version.
The Scout Plein Air Box was inspired by our endeavor to make art every day.
This pochade box compactly secures all of your essential art supplies for painting outdoors. Fill your box with your favorite colors, paintbrushes, and sketchbook. Find your spot and quickly transform the box into a mini studio. Set it on a flat surface or mount it on a tripod, snap the liquid jars, brush holder, and easel in place, clip on your canvas and you are ready to paint!
When stepping outside, perspective changes and we discover unknown parts of ourselves. By making plein air painting a ritual, we are able to better consider our world and our relationship with it. We begin to observe more closely, to better see color, and to hone memory whilst striving to capture fleeting moments.
Sling your Scout Plein Air Box over your shoulder and set out on a painting adventure—you might just find something!
"There is nothing like looking, if you want to find something… You certainly usually find something, if you look, but it is not always quite the something you were after."
–from The Hobbit by J.R.R. Tolkien
Watch Walter's video walkthrough of the features of the Scout.
Read our blog post about developing the Scout.
- FSC-Certified Walnut or Maple from south-eastern USA
- Vegetable-tanned leather
- Brass rivets and button studs
- Steel snaps and buckle
- 1 exterior pocket and 1 interior pocket
- 4 slots for drying canvases (4″ × 6″)
Parts Included with All Options
- 1 adjustable and removable shoulder strap
- 2 magnetic drawers
- 1 wooden easel
- 2 snap-on jars (1 oz. / 30 ml)
- 1 snap-on brush holder (holds 8 brushes)
- 2 binder clips for holding the canvas
Additional Parts Included with the Oil / Acrylic Option
- 1 white Corian palette (4" x 6")
- 4 Ampersand Gessobord canvas boards (4″ × 6″)
- 8 empty paint tubes (22 ml)
Additional Parts Included with the Watercolor Option
- 1 wooden watercolor palette with 12 paint wells and 1 mixing well sealed with EcoPoxy
- 4 Ampersand Aquabord canvas boards (4″ × 6″)
About the Canvas Boards – Ampersand's Description
Gessobord: Museum Series Gessobord is the most trusted pre-gessoed wood panel by artists for their work. The superior quality acrylic gesso ground does not dull colors and the lightly sanded surface provides exceptional brush control. This makes Gessobord the perfect art panel for all painting styles with oil paints, acrylics and mixed media.
Aquabord: Museum Series Aquabord is an acid-free textured clay surface that absorbs watercolors like a fine paper. Colors retain their purity and vibrancy in a way that even the finest of watercolor papers can't match.
Only Ampersand uses true high-density hardboard made from US grown and renewable Aspen wood fibers. Made with Ampersand's 1/8" True Artist Hardbord, the surface is acid-free and non-yellowing. Read more about the hardboard we use and why we've found it to be a better substrate.
Read more about Gessobord and Aquabord on the Ampersand website.
Purchase more Gessobord and Aquabord canvases here.
Replacement Parts Available
Removable bioplastic paint pans that fit our the watercolor palette are available from Poems About You.
DETAILS:
WEIGHT
Approximately 5 lbs. 8 oz.
MEASUREMENTS
Box Only
Inches: 8.5″ tall by 6.625″ wide by 4.75″ deep
Metric: 21.6 cm tall by 16.8 cm wide by 12.1 cm deep
Box with Leather Cover
Inches: 8.75″ tall by 6.625″ wide by 5.25″ deep
Metric: 22.2 cm tall by 16.8 cm wide by 13.3 cm deep
Drawer Inside
Inches: 4.875″ long by 3.5″ wide by 1.625″ deep; 0.25″ rounded corners
Metric: 12.4 cm long by 8.9 cm by 4.1 cm deep; 0.6 cm rounded corners
Outside Pouch
Inches: 6.5″ tall by 5.5″ wide
Metric: 16.5 cm tall by 14 cm wide
Inside Pouch
Inches: 7.5″ tall by 5″ wide
Metric: 19.1 cm tall by 12.7 cm wide
Shoulder Strap
Inches: Adjustable from 34.5″ to 46.5″ long; approximately 16″ to 22″ shoulder drop
Metric: Adjustable from 87.6 cm to 118.1 cm long; approximately 40.6 cm to 55.9 cm shoulder drop
Ampersand Canvases
Inches: 6″ wide by 4″ tall by 0.25″ thick
Metric: 15.2 cm wide by 10.2 cm by 0.6 cm thick
Corian Palette
Inches: 6″ wide by 4″ tall by 0.25″ thick
Metric: 15.2 cm wide by 10.2 cm tall by 0.6 cm thick
Wooden Watercolor Palette
Palette
Inches: 6″ wide by 4″ tall by 0.5″ thick
Metric: 15.2 cm wide by 10.2 cm tall by 1.3 cm thick
Paint Wells (×12)
Inches: 0.875″ long by 0.5″ wide by 0.25″ deep
Metric: 2.2 cm long by 1.3 cm wide by 0.6 cm deep
Mixing Well
Inches: 3.438″ long by 2″ wide by 0.25″ deep
Metric: 8.7 cm long by 5.1 cm wide by 0.6 cm deep
Customer Photographs
you may also like