Our Meandering Path - Peg and Awl Treasures, and Homeschooling!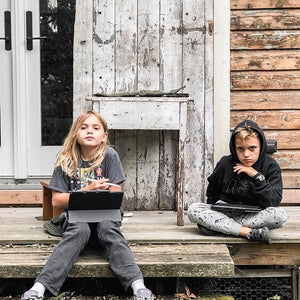 When we make new objects for Peg and Awl, we don't set out to make. They come about through exploration and need. We pull from life. There is rarely a moment when Walter and I get together and say, "what should we make next for Peg and Awl?" 
The same is true for our lives. As I look through my photographs from 2018, this year seems to be all about art, journaling, exploring, curiosity, and finding our way together, as a family, as small business owners, and as makers. We were clearing a path for ourselves and didn't even realize we were on the move...
Stepping out of our car one breezy Sunday morning into a flea market parking lot full of regular parking lot rocks, Silas spied a slightly green one. He put in in his pocket and upon returning home, he put some lemon juice on it. He and Søren (with the help of the internet) identified it as Green Quartzite and that marked the beginning of our new adventure – or re-adventure – into the world of rocks! Our Summer and Fall and on came to include gem shows, mines, hand stitched books and identification cards, magnifying glasses, and an even closer look at the ground.
And, as always, heavy Hunter Satchels. 
Most importantly, as I think back, that green rock seemed to confirm our decision to jump into the world of homeschooling. 
And homeschooling, it seems with the help of these rocks and the histories they hold, seemed to have lead the way to our deciding to vacate city living and officially become Country Bumpkins! We are moving house! Soon - and completely unexpected. I shall share more in time, but expect to see a whole new world of Peg and Awl treasures in 2019!
A little moment from a summer adventure to Calvert Cliffs, MD, where we found fossils and rocks and nests and bugs and dragged our bodies across unfamiliar landscapes to uncover the tiniest sampling of the world's treasures. The endlessness of it all is breath taking. I want to explore more than I could possibly explore in a life time and find myself often - literally - not breathing. 
Kempton, PA. Another close-to-home adventure! We encourage our boys to keep journals. Søren made his own whilst Silas went shopping at Peg and Awl!
Drawing in VA, the end of our summer road-tripping.
PS: We listened to this on the way home: http://freakonomics.com/podcast/creativity-2/
//pegandawlbuilt.com/cdn/shop/t/35/assets/dummy-image.webp?v=151254802051773435431695651725